Pre Rolls In-Store and Online
Cannabis Pre–Rolls are a quick and easy way to smoke on the go. Want to sample a new strain, grab a pre-roll first. Indica, Sativa & Hybrid strains are available online and in-store.
View Our Selections
Our Staff Picks
Looking for our Staff Picks? GreenPort Cannabis' staff have carefully hand picked high-quality, pre-rolls strains for you. 
JEAN GUY PRE-ROLL
Jean Guy's limonene-rich terpene profile gives it its signature citrusy taste.  This ecologically friendly grown strain has very strong THC potency.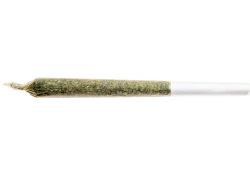 GATHER PRE-ROLL
Sun-grown in an eco-friendly greenhouse, Gather has medium THC potency and a musky aroma. The strain's buds are a vibrant green, with a myrcene and beta-pinene mix.
Cannabis is created by extracting cannabinoids like THC (tetrahydrocannabinol) and CBD (cannabidiol) from cannabis plants.
 The cannabis oils you find at a cannabis dispensary are created by a process called "chemical extraction." These methods use a solvent to extract cannabinoids along with other beneficial compounds like terpenes and flavonoids and add them to carriers like hemp oil or MCT oil.
 While there are many methods of extracting oil from a cannabis plant, some are safer and more effective than others. CO2 extraction is quickly becoming the gold standard because it produces a safe and potent product that is free from chlorophyll, waxes, and any toxic residues that other solvents can sometimes leave behind.
 Just like with any cannabis product, dosing depends on the individual. It will take a bit of hit and miss to find the right dose for you, but the general rule of thumb is "start low and go slow."
You want to find the lowest dose that provides the effects you are looking for, and that might be lower than what is recommended on the product label.
STRAINS BY SCIENCE™
Personalized product suggestions based on decades worth of Cannabis research and science.